---
Meet Jay Fox
Jay has over fifty years of experience to his credit along with a solid Classical accordionist background and was four consecutive years AAA National Accordion Champion, in age-group competition. His great-grand parents were born in Leipzig, Germany and being of German heritage, he specializes in German vocals and music. He is versatile and plays a variety of styles including: Viennese waltz, polka, big band, standards, country, blue-grass, pop, rock, oldies and semi-classical. ​ The band is frequently in all the media: newspaper, radio and TV. They tour the Midwest and South annually, perform in Europe and also play numerous festivals, hotels, clubs and public dances. They've also been asked to perform for many dignitaries including former Vice President Dan Quayle for his presidential campaign.
About the Band
JAY FOX & THE JAMMIN' GERMANS consists of all full time pro-musicians. Along with Jay on accordion, vocals, yodeling, cowbells and schuhplatting, the female singer vocalizes on all styles of music with lead and backup vocals and also performs on cowbells and schuhplatting. The drummer also is a schuhplattler and vocalist along with percussion. SHOWTIME features the band performing authentic Bavarian Schuhplattling (German Shoe-Slap Dancing), Tyrolian Cow-Bell Ringing, and Yodeling through the audience with wireless mics and numerous Audience Participation Specialties. The Band has computerized lighting, the most updated sound equipment and invites audience requests.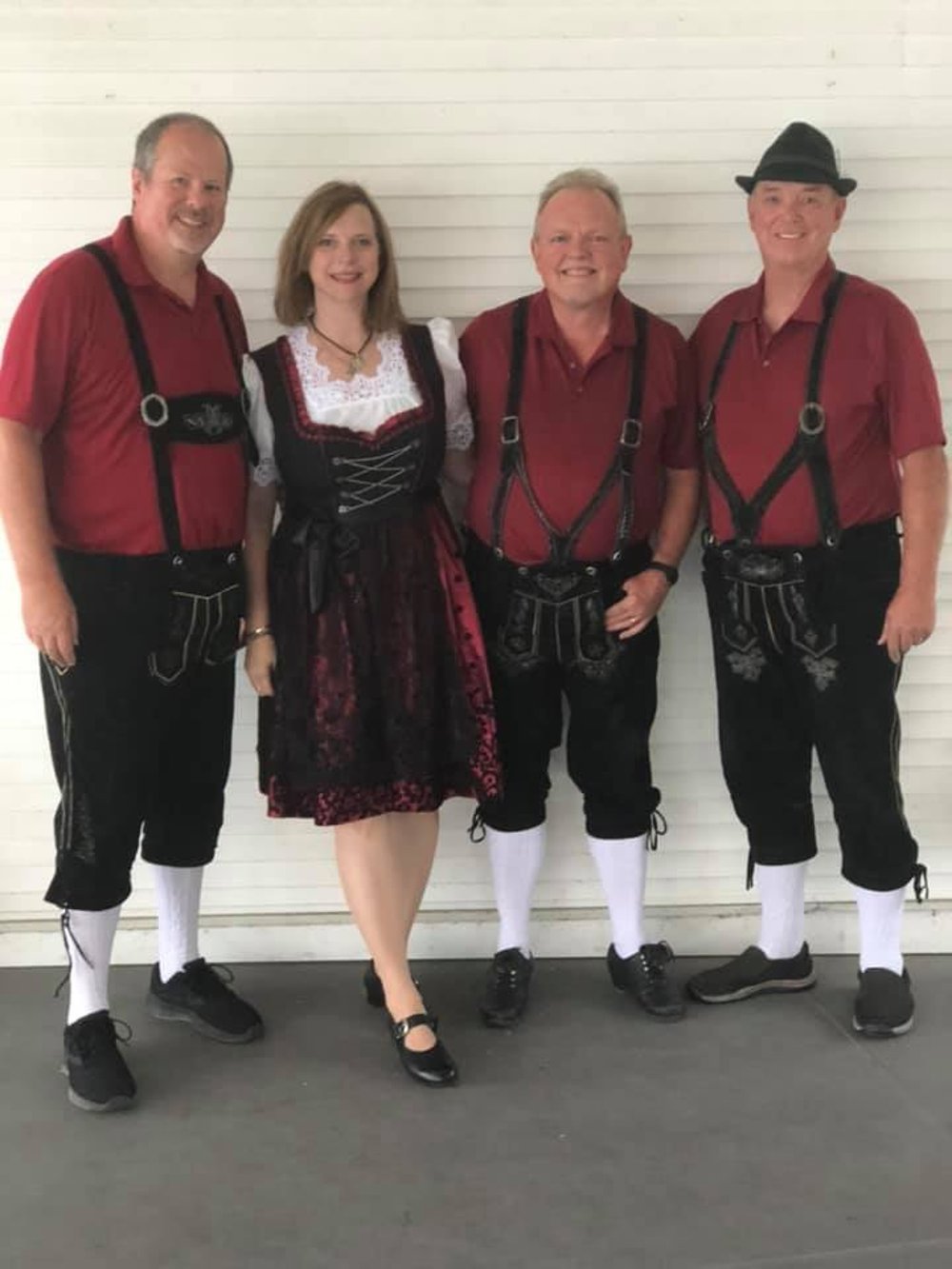 Throughout his career, Jay Fox has recorded his most requested melodies for his fans. The recordings below include many German and American favorites both traditional and modern. His well know accordion is featured on each of the recordings. ​CDs are $12 each with free shipping
Jay Fox and the Bavarian Showtime Band The Unique Sound V
Die Hände zum Himmel
Jodler G'sang
Erhalte was Gott uns Geschenkt
Carnival in Rio
Die Liebe die Liebe
Oh la la
Moos Hamma
Hey Baby
Jump Jive and Wail
Ein Prosit!
Espana Rapsody
Get Your New Jammin' Germans

BEER ME ​Shirts



Jay is selling these shirts at all performances and will they will also be available at the Ebay Store.
Previous Recordings
CDs are $12 each with free shipping
The Unique Sound IV
Bergvagabunden
Das Kufsteiner Lied Zillertaler Hochzeitsmarsch Sierra Madre
Auf der Autobahn
Don't Sit Under the Apple Tree
Non-Stop Frankie
Clarinet Polka
Dance of the Comedians Goodnight Sweetheart
The Unique Sound III
Tiroler Kirschen
Eviva Espana
Waltz of the Flowers
La Montanara
Dance Little Bird
Wenn Ich auf Hohen Bergen Steh'
In the Mood
I Just Called to Say I Love You Orange Blossom Special
Rhapsody in Blue
The Unique Sound II
Mei Vata is a Appenzeller Wiener Blut
Aber Dich gibts nur Einmal für Mich
Von den Blauen Bergen Kommen Wir
Memories of Heidelberg Yakety Sax
Lost in the Fifties Tonight Moonlight Serenade
Rocky
Top Bumble Boogie
The Unique Sound I
Und Sie Heiss Lulalei
Im Wald im Grunen Walde Medely of Strauss Waltzes Buenos Dias Argentina
Die Lustigen Holzhackerbub'n
Rolling Home
Theme from New York, New York
After the Lovin
Delilah
Old Time Rock and Roll Dueling Banjos/Foggy Mountain Breakdown Maleguena​
Molly B Television Show DVD $15
he DVD includes performance footage of 12 popular polka's, waltz, and modern tunes, with nearly one hour of music. The DVD is a professionally engineered, and mastered live performance of the band which was recorded in August of 2013 when the band taped episodes for the popular Mollie B Polka Party program on RFD-TV.